Sailing Races | Outer Island Adventure Race
2021 Sailing Races
On July 10th, we held the first of the two sailing races this year on a course from in front of Totten Island out to Running Island and back. Organized by Commodore Glen Campbell and his race committee, the race encountered very light winds that challenged every sailor. Here are the official results of the first race. Next race is on July 24th (rain date July 25th) starting at 1:30pm. Racing instructions will be announced in the weekly SSCA eBlast. Mark your calendars!
A big thanks to Fred Eaton for an amazing pre race tuning clinic! Fred Eaton (past C-class catamaran world champion) has kindly offered again to run a pre-race clinic for our sailors on July 24th, sharing tactics that racers can apply in light winds. The clinic will take place at the Community Centre Dock and will start at 11:00 am, with a light lunch on the dock before the race.
Please reach out to Glen Campbell (campbellglend@gmail.com) if you are interested in participating.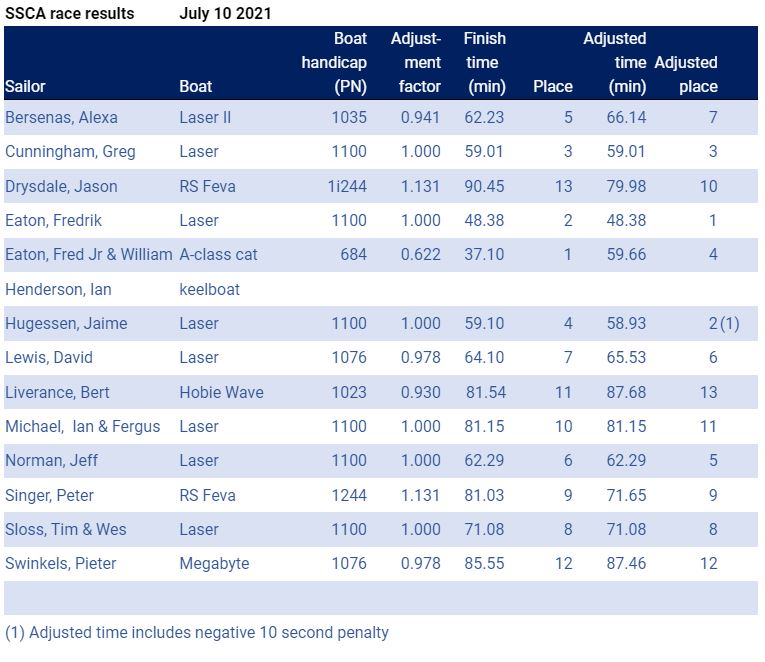 2021 Outer Island Race      Saturday, August 21st